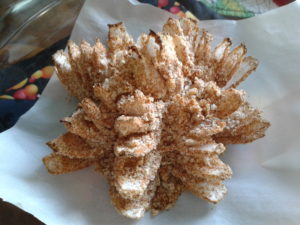 For over 15 years, I've been eating gluten and lactose free.  In the last two years, I've been eating low FODMAPS (See Stanford's FODMAP Chart for more information).  
Every once in a while, I just want a taste of something that every one else can eat.  I can't possibly go out to eat this. This was the time when I just had to try to make a Blooming Onion! So I took a recipe that I saw online and modified it to be gluten free and EDTA free. For a first attempt, I think the recipe turned out well.      Unfortunately, it isn't low FODMAPS, but I just wanted a taste. This recipe did it!  I was able to taste a Blooming Onion and my husband liked it too.
SAUCE
2/3 c. EDTA free 
mayonnaise ( I used Trader Joe's)
2 TBSP organic ketchup (no High Fructose Corn Syrup)
1 TBSP siracha sauce
1 TSP smoked paprika
1 TSP chili powder
1/2 TSP garlic power
1/2 TSP dried oregano
kosher salt
1 TBSP horseradish sauce (optional to keep this EDTA free- go without)
Mix all of the sauce ingredients together and refrigerate.
FOR THE ONION
1 large onion
1 egg and cold water scrambled
1 c gluten free bread crumbs
2 TSP paprika
1 TSP garlic powder
1 TSP onion powder
Kosher salt
Preheat the oven to 400 degrees.  Peel the onion.   Slice off onion stem and set onion on flat side. Cut inch from the root down, into 12 to 16 sections or use an apple slicer to cut evenly, being careful not to cut all the way through. Flip over and gently pull out sections of onion to separate petals.
In a small high bowl, scramble the egg and cold water together.   In a second bowl mix the rest of the ingredients.   Dunk the onion in the egg wash and then dredge in the bread crumbs.   Do this twice to get full coverage.  Set the onion on a parchment covered baking dish and place in the oven for 18-20 minutes.