My vegetable garden always has three or four varieties of tomatoes:  a beefsteak variety for sandwiches, especially BLTs, a cherry or grape tomato for salads, a roma and this year I went with a yellow tomato.   I absolutely love the flavor of those yellow tomatoes mixed with cucumbers.   A great summer salad.
Yesterday my husband and I picked 3 baskets of vegetables.   The romas were ready and it was sauce time! As I was slicing up the tomatoes, I remembered picking tomoatoes as a kid with my family.   We would have bushels of tomatoes and it became a family operation  to clean, prep and boil the tomatoes into sauce.  Two days of boiling down sauce and then canning.   Last week I made a few quarts of sauce using the crockpot to boil the sauce overnight.
The dehydrator is working overtime, this morning with two kinds of basil, parsley and oregano. My own Italian Seasoning Mix is ready.   Later in the morning, the tomatoes will be boiling on the stove and the sweet smell of boiling tomatoes will permeate the house.   Just one small pot, flavored with onions, green pepper and garlic, all out of my garden!    We tasted the mixture in the evening and the flavor was astounding. We decided it would make great bloody mary's in the morning!
Bloody Mary Recipe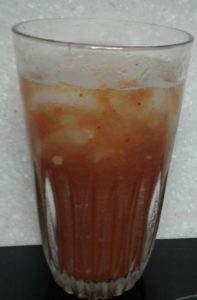 1/4 cup (2 ounces) vegetable juice.
3 dashes Talulas Hot Sauce.
3 tablespoons (1 1/2 ounces) vodka (Titos).
1 teaspoon Worcestershire sauce.
1 pinch salt.
1 dash freshly ground black pepper.
1 pinch of celery seed
About 1 cup ice cubes.
We thought to garnish with olives, celery or martini onions later….
Vegetable juice
Mixed Romas, yellow, beefsteak tomatoes sliced and boiled down to two quarts
half an onion, 3 green peppers, 1 clove elephant garlic
Boil all ingredients together and put through a food grinder.